Episode 442:
Confronting Complex Cementation Challenges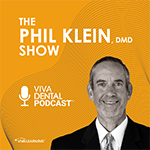 Dental podcast: Welcome to DentalTalk. I'm Dr. Phil Klein. Today we'll be discussing how to handle complex cementation challenges and why and when we need to rely on a quality resin cement. Our guest is Dr. Michelle Lee, an active member of the Pankey Institute, American Academy of Cosmetic Dentistry (AACD), and American Equilibration Society (AES). She is passionate about providing excellent patient-centered, comprehensive dentistry to her patients, and strives to provide gentle and customized dental care.
Podcast Exam
Please
Log in
to take exam and earn CE credit.
More Podcast Episodes You Might Like