Episode 264:
Short Fiber-Reinforced Composite: A New Era for Bulk Filling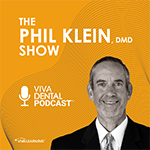 Dental podcast: Welcome to DentalTalk. This is Dr. Phil Klein. Today we'll be discussing how to incorporate fiber-reinforced composite into your bulk filling and core build-Up regimens. Our guest is Dr. Matt Nejad, an expert biomimetic and esthetic dentist practicing in Beverly Hills, CA. He is a Fellow of the Academy of Biomimetic Dentistry and serves as a Scientific Advisor to mentor and train dentists. Dr. Nejad is a consultant for several global dental companies, a member of the ADA Standards Committee on Dental Products and continues to lecture nationally and internationally.
Podcast Exam
Please
Log in
to take exam and earn CE credit.
More Podcast Episodes You Might Like