Episode 464:
Use of Short-Fiber Reinforced Composites to Rescue Cracked Teeth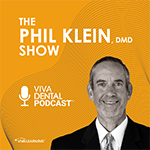 Dental podcast: Welcome to DentalTalk. I'm Dr. Phil Klein. Today we'll be discussing the benefits of adding a short-fiber reinforced composite restorative for specific restorative cases. In conjunction with a universal composite, a fiber-reinforced restorative has shown to offer significantly better fracture toughness in many applications versus a universal composite alone. Our guest is Dr. Ron Kaminer, an internationally known educator, lecturing on dental lasers and other cutting-edge technologies in the dental market. Dr. Kaminer maintains 3 practices, one in Hewlett, NY one in Oceanside, NY and one in breezy point NY.
Podcast Exam
Please
Log in
to take exam and earn CE credit.
More Podcast Episodes You Might Like