Episode 22:
G-aenial Universal Injectable: Redefining the Way You Work with Composites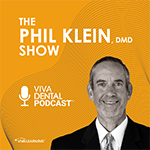 Dental podcast hosted by Dr. Phil Klein: In this VivaPodcast we'll be talking about a new genre of composite restorative referred to as a Universal injectable. The material is a high-strength nano-particle composite designed to provide excellent adaptation to the cavity for reduced occurrence of porosities and air bubbles, among many other benefits.

Speaking with us today, an expert on the topic, is Dr. Robert Marus, a practicing in Yardley, Pennsylvania. Dr. Maris is one of five dentists in the state of Pennsylvania to receive accreditation by the American Academy of Cosmetic Dentistry.
More Podcast Episodes You Might Like