Episode 418:
Glass Ionomers: More Than Just Geriatric Treatment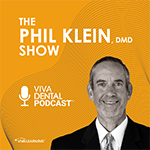 Dental podcast: Welcome to DentalTalk. I'm Dr. Phil Klein. The next-generation glass ionomers (glass hybrids) have become an ideal treatment option for geriatric and high-risk caries patients. Today we'll be discussing how the improved physical properties of these materials make them a cost-effective, long-term restorative option where there is virtually no risk of recurrent decay. Our guest is Dr. Lou Graham, an internationally recognized lecturer extensively involved in continuing education for dental professionals. His lectures focus on incorporating current clinical advancements through "conservative dentistry."
Podcast Exam
Please
Log in
to take exam and earn CE credit.
More Podcast Episodes You Might Like