Episode 334:
The Future of Dentistry: Live Panel Discussion from Spear Education in Scottsdale AZ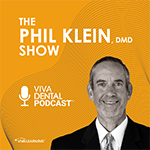 Dental podcast: Welcome to DentalTalk. I'm Dr. Phil Klein. I'm excited to be here today at Spear Education in Scottsdale, AZ as the moderator for our panel discussion, The Future of Dentistry. In our audience are over 60 world-renowned key opinion leaders that have participated in this 2-day educational symposium sponsored by GC America. Our four distinguished panelists include Dr. Matt Nejad, Dr. Sabiha Bunek, Dr. Steve Schiffenhaus and Dr. Bob Margeas.
Podcast Exam
Please
Log in
to take exam and earn CE credit.
More Podcast Episodes You Might Like