Episode 443:
Hand Hygiene Recommendations from ICP Expert, Dr. Marie Fluent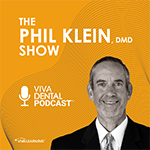 Dental podcast: Welcome to DentalTalk. I'm Dr. Phil Klein. One of the simplest action items for the dental team is practicing proper Hand hygiene — yet, it still remains one of the most misunderstood methods to prevent the spread of microbes. Today we'll talk about hand hygiene focusing on product considerations and how to improve dental team compliance. Our guest is Dr. Marie Fluent, who has an extensive dental career spanning 35 years as a dental infection control clinical instructor, educator, speaker, author, and consultant.
Podcast Exam
Please
Log in
to take exam and earn CE credit.
More Podcast Episodes You Might Like