Episode 177:
The Inside Scoop on Bulk Fill Direct Filling Materials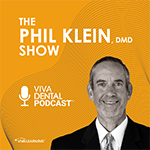 Dental podcast hosted by Dr. Phil Klein: This Viva Podcast will discuss bulk fill direct filling material and why all restorative dentists should have them in their office. Our guest is Dr. Sam Simos, a nationally recognized key opinion leader in cosmetic and restorative dentistry. He lectures around the country and writes articles in professional publications on the use of innovative dental techniques and materials.
Podcast Exam
Please
Log in
to take exam and earn CE credit.
More Podcast Episodes You Might Like