Episode 391:
Are You Tired of Wrestling with Retraction Cord?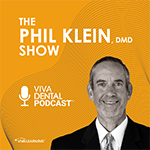 Dental podcast: Welcome to DentalTalk. I'm Dr. Phil Klein. Today we'll be discussing the typical protocols, challenges, and nuances of tissue management and retraction for final impressions. Our guest is Dr. Foroud Hakim, who holds a full time position in the Dept. of Preventive and Restorative Dentistry at University of the Pacific. He has maintained a private practice for over 30 years where his deep ties with the dental industry allow for beta testing and consulting for new product evaluation and development. Dr. Hakim will share some intriguing new products that every restorative doctor should have in their tool box that can simplify what is often considered one of the more frustrating processes in patient treatment.
Podcast Exam
Please
Log in
to take exam and earn CE credit.
More Podcast Episodes You Might Like