Episode 341:
Thermo-Viscous Technology: The Evidence Supports the Science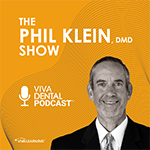 Dental podcast: Welcome to DentalTalk. I'm Dr. Phil Klein. Today we'll be discussing Thermo-Viscous Technology and the warming of composites. We've talked about this to some extent on previous podcasts, but today we'll be learning more about it and getting a different perspective from Dr. Frank Milnar. Dr Milnar is co-founder of the Minnesota Academy of Cosmetic Dentistry, a regular speaker on vivalearning.com and is a well-respected lecturer in the U.S. and internationally on direct composite restorations, shade selection and porcelain materials.
Podcast Exam
Please
Log in
to take exam and earn CE credit.
More Podcast Episodes You Might Like