Episode 201:
Unprecedented Times Call for Smart Choices: What to do to Protect Your Patients, Your Team and Your Community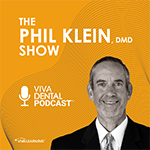 Dental podcast hosted by Dr. Phil Klein: This Viva Podcast will discuss what to do to protect your patients, your team and your community from COVID-19. Our guest is Dr. Sonny Spera, a practicing dentist with over 30 years of experience. He owns and maintains 5 Fee For Service practices, Progressive Dental, in the Southern Tier of NY, and Northeastern PA.
Podcast Exam
Please
Log in
to take exam and earn CE credit.
More Podcast Episodes You Might Like