Episode 296:
How to Join the Single Shade Composite Revolution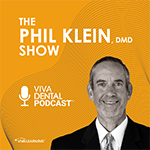 Dental podcast: Welcome to DentalTalk. I'm Dr. Phil Klein. The entire world of dental composite dentistry has been changing almost simultaneously with the pandemic. How do we make a choice now that nearly every company is unleashing their "single shade composite system." Our guest is Dr. Peter Auster, who spent 10 years in leadership positions in the American Academy of Cosmetic Dentistry and is the 2022 Chairman of their Professional Education Committee. He is the founder and past-president of the Greater New York Academy of Cosmetic Dentistry. Dr. Auster is a Dawson Academy Scholar and Catapult Education Speaker who lectures about cosmetic, reconstructive, and comparative product based dentistry.
Podcast Exam
Please
Log in
to take exam and earn CE credit.
More Podcast Episodes You Might Like