Episode 402:
Standing the Test of Time – The Story of a Long-standing Composite in Pediatric Dentistry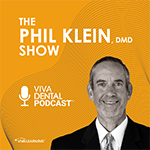 Dental podcast: Welcome to DentalTalk. I'm Dr. Phil Klein. As the years go by, nothing makes a dentist happier than restorations that have stood the test of time. Longevity of dental treatment firmly establishes quality, reliability, durability, and function. In the case of our pediatric patients we're looking to place dental restorations quickly, that will last for a long time. Our guest is Dr. Carla Cohn, a general dentist devoted solely to the practice of dentistry for children. She maintains private practice in Winnipeg, Canada.
Podcast Exam
Please
Log in
to take exam and earn CE credit.
More Podcast Episodes You Might Like