Episode 327:
Glass Ionomers for Your Pediatric Patient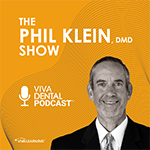 Dental podcast: Welcome to DentalTalk. I'm Dr. Phil Klein. Today we'll be discussing glass ionomer and resin modified glass ionomer products and the advantages of each for pediatric patients. The use of Silver Diamine Fluoride topped with GI will also be discussed. Our guest is Dr. Carla Cohn, a partner at a private surgical clinic in Canada and clinical instructor in Pediatric Dentistry at the University of Manitoba. Dr. Cohn lectures internationally on prevention and Pediatric Dentistry for the general dentist.
Podcast Exam
Please
Log in
to take exam and earn CE credit.
More Podcast Episodes You Might Like