Episode 410:
Ideal Protocols for the Restoration of Posterior Teeth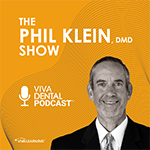 Dental podcast: Welcome to DentalTalk. I'm Dr. Phil Klein. Today we'll be discussing clinical strategies related to procedures that we do every day in our practice. This includes bonding zirconia crowns, layering composites, creating a composite crown and throughout all of this, maximizing adhesive bond strength. Our guest is Dr. Clarrie Tam, a multi-faceted dentist with extensive knowledge and experience in restorative dentistry. Dr Tam sits on the Advisory Board for Dental Asia, and is part of the Restorative Advisory Panel for Henry Schein Dental New Zealand.
Podcast Exam
Please
Log in
to take exam and earn CE credit.
More Podcast Episodes You Might Like