Episode 393:
Leveraging the latest in resin technology; Is your material contemporary?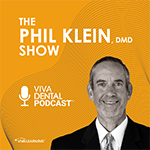 Dental podcast: Welcome to DentalTalk. I'm Dr. Phil Klein. Today we'll touch on trends, advancements and developments in the area of composite resins. The conversation will range from practitioner preferences through the latest and greatest in material science advancements. Our guest is Dr. Foroud Hakim, who holds a full time position in the Dept. of Preventive and Restorative Dentistry at University of the Pacific. He has maintained a private practice for over 30 years where his deep ties with the dental industry allow for beta testing and consulting for new product evaluation and development.
Podcast Exam
Please
Log in
to take exam and earn CE credit.
More Podcast Episodes You Might Like