Episode 397:
Why Nano Ceramics for In-house Milling and How Your Lab Can Help You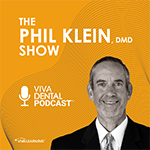 Dental podcast: Welcome to DentalTalk. I'm Dr. Phil Klein. Today we'll be discussing how to avoid the most common causes of failures of implant retained multi-unit restorations, and gain a better understanding of the variety of materials and manufacturing methods for hybrid dentures. Our guest is Koorosh Aghakhani, an expert certified dental technician and leader in cutting edge dental technology.
Podcast Exam
Please
Log in
to take exam and earn CE credit.
More Podcast Episodes You Might Like