Episode 356:
From an Expert Lab Tech: Stay in Your Lane with Smarter Material Selection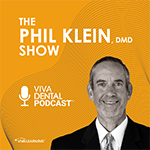 Dental podcast: Welcome to DentalTalk. I'm Dr. Phil Klein. Today we'll be discussing dental material selection from an expert lab technician's perspective, with considerations for the future of fixed and removable restorations. Our guest, Johnny Orfanidis, is the owner of Ameri-Dent Dental Laboratory in Tampa FL and a third generation dental technician. The industry knows him as JOHNNY O! Johnny has been around dental labs and clinical environments all his life, always at the forefront of advanced digital dental technology and partnering with the biggest industry names in material, equipment and technology developments.
Podcast Exam
Please
Log in
to take exam and earn CE credit.
More Podcast Episodes You Might Like