Episode 237:
Increasing Positive Outcomes with Milled Restorative Techniques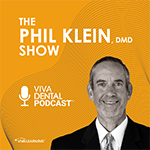 Dental podcast hosted by Dr. Phil Klein: Current milling technologies and materials have made indirect restorations more accessible to the dental practitioner. With many choices available, clinicians must first decide if an indirect procedure is indicated, and if so, which material is best suited for their specific application? Today we'll be discussing increasing positive outcomes with milled restorative techniques. Our guest is Dr. Jeff Horowitz, founder and clinical director for Advanced Sleep and TMJ Centers, and founder of Advanced Dentistry, a multi-disciplinary group practice in the Conway/Myrtle Beach, SC area. Dr. Horowitz lectures internationally, has published in dental literature, and has contributed to many television news media reports.
Podcast Exam
Please
Log in
to take exam and earn CE credit.
More Podcast Episodes You Might Like