Episode 187:
Core Bulid-ups and their Significance in Clinical Practice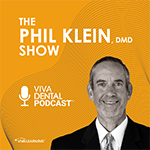 Dental podcast hosted by Dr. Phil Klein: This Viva Podcast will discuss core bulid-ups and their significance in clinical practice. Our guest is Dr. Marc Geissberger, who has over 27 years of experience in dental education. He currently teaches at the University of the Pacific and has authored numerous articles in a variety of dental publications. He maintains a private practice in Greenbrae, Ca. in aesthetic and restorative dentistry.
Podcast Exam
Please
Log in
to take exam and earn CE credit.
More Podcast Episodes You Might Like