Episode 401:
The Impact of ORMOCER Technology on Hypersensitive Teeth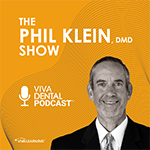 Dental podcast: Dental podcast: Welcome to DentalTalk. I'm Dr. Phil Klein. Today we'll be discussing how new technology is addressing dentinal hypersensitivity. Our guest is Dr. William Paveletz. A graduate of Temple Dental School Dr Paveletz is speaks nationally and internationally for dental organizations, learning institutions and national and local dental study clubs.
Podcast Exam
Please
Log in
to take exam and earn CE credit.
More Podcast Episodes You Might Like