Episode 461:
Ending the Silence in Long-Term Care Facilites - Let's Talk About It!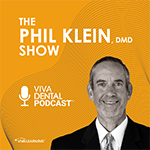 Dental podcast: Welcome to DentalTalk. I'm Dr. Phil Klein. Many older adults living in long-term care facilities suffer in silence from poor oral health. Todays podcast will address this concerning issue. Our guest is Sonya Dunbar, a registered dental hygienist for 30 years and known as the Geriatric Toothfairy. She is an oral health educator on a mission to reduce the health risks of diseases and morbidity among seniors due to poor oral care.
Podcast Exam
Please
Log in
to take exam and earn CE credit.
More Podcast Episodes You Might Like