Episode 292:
Thermoviscous Technology: Groundbreaking Composites that are flowable AND sculptable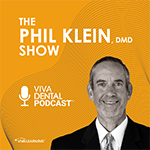 Dental podcast: Welcome to DentalTalk. I'm Dr. Phil Klein. Heating composites in order to create better flowability into nooks and crannies is not new. It's been around for many years. But recently there has been advancements in this area. Now, utilizing Thermoviscous Technology, a new composite has been specifically engineered to be warmed for initial flowability, followed by sculptability. Our guest is Dr. Peter Auster, who spent 10 years in leadership positions in the American Academy of Cosmetic Dentistry and is the 2022 Chairman of their Professional Education Committee. He is the founder and past-president of the Greater New York Academy of Cosmetic Dentistry and a Dawson Academy Scholar and Catapult Education Speaker who lectures on cosmetic, reconstructive, and comparative product based dentistry.
Podcast Exam
Please
Log in
to take exam and earn CE credit.
More Podcast Episodes You Might Like