Episode 381:
Expedited Excellence: Warmed Composite is a Game-changer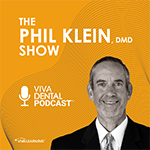 Dental podcast: Welcome to DentalTalk. I'm Dr. Phil Klein. Dental materials have certainly changed and evolved over the past few years, so the question is, how do those changes affect our restorative procedures and our practice? Today we'll be discussing this and more with our guest Dr. Joshua Austin. Dr Austin maintains a full time restorative private practice in San Antonio, Texas. He is an editorial director and monthly columnist for Dental Economics magazine focusing on products and technology.
Podcast Exam
Please
Log in
to take exam and earn CE credit.
More Podcast Episodes You Might Like