Episode 394:
The Final Piece Of The Puzzle: Choosing The Definitive Cement For Your Fixed Restoration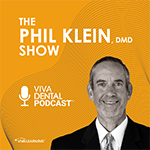 Dental podcast: Welcome to DentalTalk. I'm Dr. Phil Klein. Choosing the right cement for your fixed restoration is just as important as picking the correct material. Today we'll be talking about dental cements, especially as they relate to our ceramic restorations. Our guest is Dr. Martin Jablow. He's a general dentist in Woodbridge NJ and Chief Development Officer of Cellerant Consulting. Dr. Jablow has been recognized as a top speaker by Dentistry Today and has lectured world wide on dental technology and materials.
Podcast Exam
Please
Log in
to take exam and earn CE credit.
More Podcast Episodes You Might Like