Episode 249:
Benefits of an All-in-one All-ceramic Direct Restorative Material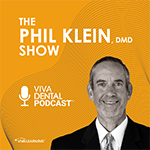 Dental podcast hosted by Dr. Phil Klein: Today we'll be discussing nano-ORMOCER technology, an all-ceramic direct restorative material that helps simplify your restorative needs and, at the same time, saves you money. This one size fits many restorative material is designed to simplify direct composite procedures. Our guest is Dr. Martin Jablow, a well-known KOL, regular speaker on Viva Learning, and practicing clinician and author. For almost 20 years, he has been a member of his local peer review and is currently an attending at the JFK Medical Center in Edison, NJ. Dr. Jablow is president of Dental Technology Solutions a lecture and consulting company.
Podcast Exam
Please
Log in
to take exam and earn CE credit.
More Podcast Episodes You Might Like