Episode 469:
Biocompatible Materials in Wellness Dentistry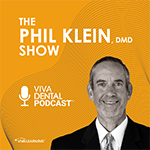 Dental podcast: Welcome to DentalTalk. I'm Dr. Phil Klein. Biocompatible materials are formulated to eliminate adverse effects on a patient's biology when used in the mouth. Today we'll be discussing how to choose the correct biocompatible materials for your patients and elevate your patients with wellness dentistry. Our guest is Dr. Katie To, a cosmetic and wellness dentist and founder of Center for Integrative Wellness and Cosmetic Dentistry in Katy, Texas.
Podcast Exam
Please
Log in
to take exam and earn CE credit.
More Podcast Episodes You Might Like